Delaware Valley School District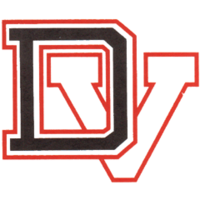 Pike County is served by three school districts, Delaware Valley, Wallenpaupack, and East Stroudsburg. The Delaware Valley School District encompasses approximately 191 square miles and serves the Boroughs of Matamoras and Milford and Delaware, Dingman, Milford, Shohola and Westfall Townships. According to District officials, in school year 2007-08 the Delaware Valley School District provided basic educational services to 5,685 pupils through the employment of 416 teachers, 241 full-time and part-time support personnel, and 25 administrators.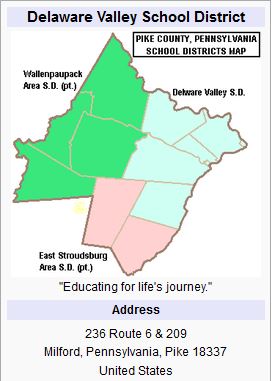 The district operates one High School, two Middle Schools and four Elementary Schools. Click the Delaware Valley District schools below to see how they are rated.
Public School PK – 2
1375 Route 739
Dingmans Ferry, PA 18328
Public School 3 – 5
1355 Route 739
Dingmans Ferry, PA 18328
Public School Pre K – 5
244 Route 6 And 209
Milford, PA 18337
Public School K – 5
940 Twin Lakes Rd.
Shohola, PA 18458
Public School 6 – 8
1365 Route 739
Dingmans Ferry, PA 18328
Public School 6 – 8
258 Route 6 And 209
Milford, PA 18337
Public School 9 – 12
252 Route 6 And 209
Milford, PA 18337