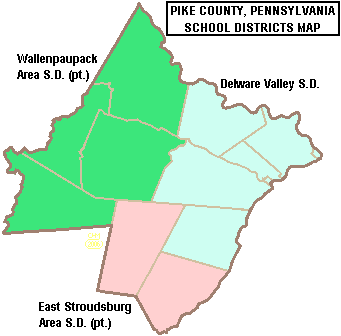 Pike County is served by three public school districts, Delaware Valley, Wallenpaupack, and East Stroudsburg. The Delaware Valley School District encompasses approximately 191 square miles and serves the Boroughs of Matamoras and Milford, Delaware, Dingman, Milford, Shohola and Westfall Townships.
Wallenpaupack Area serves areas of Pike and Wayne Counties and encompasses approximately 321 square miles. The school district serves Blooming Grove, Greene, Lackawaxen, and Palmyra Townships in Pike County and Hawley Borough, Dreher, Palmyra, Paupack and parts of Texas Township in Wayne County.
East Stroudsburg Area School District serves areas of Monroe and Pike Counties and encompasses approximately 214 square miles. The District is split into two parts: South and North. In Monroe County the District serves East Stroudsburg Borough, Smithfield Township, Middle Smithfield Township, and Price Township. In Pike County the District serves: Lehman Township and Porter Township.